How Often Should You Change Your Oil?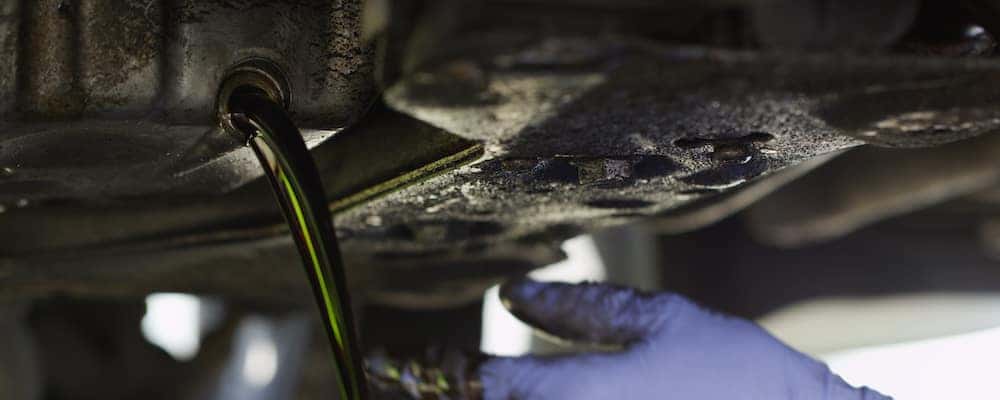 Regular oil replacement is an important part of any vehicle's recommended maintenance schedule, but unless you've had the chance to talk with the experts, you may be in the dark about how often you should change your oil! In years past, many drivers were told that oil should be replaced every 3,000 miles, but this hasn't been true for a long time. Most modern vehicles can travel anywhere between 5,000 and 7,500 miles before they need their oil changed.
Your owner's manual contains a recommended oil change frequency that's specific to your vehicle, but there are a variety of factors you should consider before scheduling service. We've laid out everything you need to know.
Oil Change Frequency Guidelines
If you change your oil once every 5,000 to 7,500 miles, and complete all other maintenance on schedule, you shouldn't have much to worry about. However, you may need more regular oil changes if you regularly push your car to its limits or put it through heavy daily use through these activities:
Racing and high-speed driving
Off-road driving
Towing heavy loads
Commercial applications
Oil Change Tips for Mt. Prospect Drivers
There are a few other things you should know about oil changes before deciding when and where to schedule service:
Oil breaks down naturally, even if it's just sitting in your vehicle. Even if you haven't reached the 5,000-mile marker, it's smart to get an oil change at least twice a year.
Your vehicle filters your oil as it runs, so it's important to change out your filter every time you get an oil change. If you perform your own oil changes at home, you can pick up new filters at the The Autobarn Volkswagen of Mt. Prospect parts department.
Your owner's manual can tell you whether your vehicle needs to run on synthetic oil. Even if it isn't required, synthetic oil offers advantages over conventional oil, and can help to improve performance.
If you have any questions about how these factors apply to you and your vehicle, contact us by phone at (847) 457-0496.
How Often Should I Check My Oil Level?
It's a good idea to check your oil level at least once a month. Checking your oil frequently can help you catch serious leaks right away and prevent long-term damage to your vehicle's engine. When you perform this check, make sure to pay close attention to the color of your oil while looking for metal particles in the fluid, as both can be signs of serious issues. If you notice a problem, the The Autobarn Volkswagen of Mt. Prospect service center can get you back on the road in no time.
Turn to The Autobarn Volkswagen of Mt. Prospect for Oil Changes
Drivers from Des Plaines to Schaumburg come to The Autobarn Volkswagen of Mt. Prospect for our quick, easy oil changes. What's more, when you take advantage of our rotating monthly specials and Volkswagen service coupons, you can get the service you need for less! Next time you reach your oil change frequency marker or have questions about issues like a locked steering wheel, contact The Autobarn Volkswagen of Mt. Prospect for a more convenient experience.
More From Our Service Department
Regular oil replacement is an important part of any vehicle's recommended maintenance schedule, but unless you've had the chance to talk with the experts, you may be in the dark about how often you should change your oil! In years past, many drivers were told that oil should be replaced every 3,000 miles, but this…

The winter season can bring along a lot of joy to the Glenview area with holiday celebrations, magical light displays, and hot cocoa — but it also brings some new responsibilities for your car. You should winterize your car before the temperatures drop and snow begins to fall to better avoid flat tires, dead batteries,…

Contact UsSchedule Service Next to getting your oil changed, tire care is among the most important forms of vehicle maintenance there is. Make sure that you're rolling around the streets of Chicago both safely and efficiently by following these tire care tips from The Autobarn Volkswagen of Mt. Prospect. Afterward, if you're still feeling lost, don't hesitate to visit our…